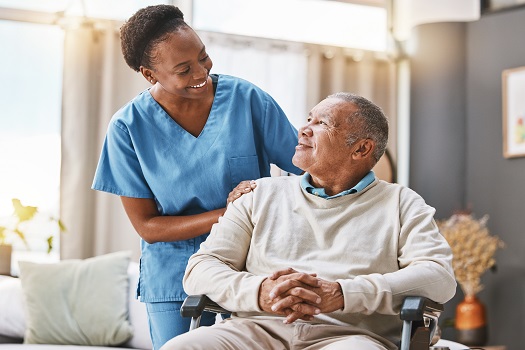 When a senior loved one needs care, choosing to take on the caregiving responsibilities may not be an easy decision. However, there are some ways you may benefit from being in charge of this important role in your family. 
Gratitude
Gratitude is an important emotion, and research in the field of psychology connects it to many benefits. In a positive caregiving relationship, you feel your loved one's gratitude, which can make you feel good about what you're doing for him or her. But just as importantly, caregiving can also help you become more appreciative of your own health and life circumstances. 
Even though you're grateful for the time you spend with your loved one, it's still important for you to socialize with friends and other family members, and hiring a home caregiver can allow you to do that. If you're the primary caregiver for a senior family member and are looking for professional elder care, Home Care Assistance should be your top choice. Our dedicated and compassionate caregivers are committed to helping older adults address their health issues and enjoy a higher quality of life in the golden years.
Dignity
Some might consider it an old-fashioned concept, but for those who act as caregivers for their senior loved ones, human dignity is still alive and well. Think of dignity as a special kind of empathy you demonstrate through learning how to treat your loved one more gently and respecting his or her feelings, opinions, and choices. This is an understanding that can serve you well in other areas of life, including with children and at work.
Life Skills
Caregiving is a learning experience that can teach you many things, such as how to operate a wheelchair and maintain a complex medication schedule. You may even gain knowledge about physical rehabilitation and advanced household maintenance in addition to numerous other daily skills. Learning opens up your mind to new possibilities and broadens your understanding of the world around you.
A professional caregiver can be a fantastic source of caregiving advice and support as you care for your loved one. Though you may be researching multiple agencies that provide senior home care, Huntsville, AL, Home Care Assistance has much to offer your family and your elderly loved one. We are leaders in the senior home care industry, offering proprietary programs like our holistic Balanced Care Method and around-the-clock assistance from reliable, experienced caregivers. Trust Home Care Assistance to help your loved one enjoy a happier and healthier life in the golden years.
Peace of Mind
Taking care of a senior loved one can also give you peace of mind because you know exactly how his or her care is being handled. You don't need to worry about crowded, overburdened assisted living facilities because your loved one is comfortable at home. That sense of security can be priceless. 
There are many reasons to become a family caregiver, but it's also important to take time away from your duties to rest and recharge. Family caregivers sometimes need a break from their caregiving responsibilities. When they need respite care, Huntsville families can rely on professional caregivers to help their senior loved ones remain safe at home. Trust your loved one's care to the professionals at Home Care Assistance. To create a customized home care plan for your loved one, call (256) 716-9940 today.