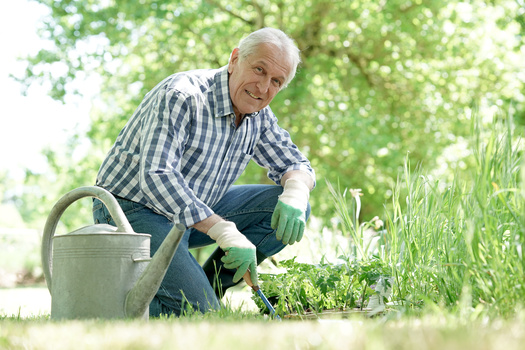 Gardening is one of the best hobbies your senior loved one can participate in. It's an excellent way to get some physical activity, boost mental outlook, reduce stress, and receive many other health benefits. Gardening can also be a good activity for seniors with dementia. If you have a loved one with dementia who enjoys gardening, make sure he or she is following a few important safety tips. 
Consider Container Gardens
A garden that's flat on the ground can be difficult for older people to care for and lead to back pain, falls, and other physical issues, which is why many seniors are turning to containers. Gardening in pots and other containers means your loved one can raise plants anywhere, even on a porch or patio. Opting for containers can help you keep a close eye on your loved one and make sure he or she doesn't wander off. 
Avoid Dangerous Tools
Gardening tools are one of the biggest sources of danger when working outdoors, especially for seniors with vision or memory issues. It may be best to replace some of your loved one's sharper tools with those that have rounded edges. Tools with larger, easy-to-grasp handles are also ideal for people with dementia. Foam and tape are good for making handles softer and easier to hold. 
One of the many ways to ensure your loved one's safety is to hire a professional caregiver. If your senior loved one needs professional in-home care, Home Care Assistance is here to help. We are a trusted provider of respite and 24-hour care, and we also offer specialized Alzheimer's, dementia, Parkinson's, and stroke care for seniors.
Create Smooth & Even Pathways
No matter where your loved one is gardening, the pathways to the garden and between the beds should be smooth and even to prevent falls. Check them regularly for rocks, sticks, and other tripping hazards. Fill in any holes, and level off any hills or bumps. 
Wear Protective Equipment
Make sure your loved one wears the right equipment to prevent injury. Gloves can prevent blisters on the hands. Sturdy closed-toe shoes can prevent falling and damage to the toes if something heavy or sharp falls on the feet. Glasses or goggles can prevent debris from getting into the eyes. 
Use Sun Protection
It's also important to protect your loved one from the sun, even on cooler days. Light-colored cotton clothing, hats, and sunglasses can all serve as barriers to the sun's harmful rays. Sunscreen is also important for protecting the skin. Make sure your loved one has plenty of water and knows to take breaks inside or in the shade occasionally, especially on hotter days. 
Caring for a loved one with dementia can be challenging for family caregivers. In Huntsville, respite care is a great help to many families. Caring for a senior loved one can be overwhelming at times, which puts family caregivers at risk for burnout. However, an in-home caregiver can take over your loved one's care, allowing you the time you need to focus on your own health, maintain a full-time job, or care for other members of your family.
Treat Cuts & Bites Immediately
Small cuts and insect bites are the most common injuries people experience while gardening. If these happen to your loved one, it's important to treat them immediately so they don't become infected or lead to other health complications. If your loved one continues to experience these types of minor injuries, do what's necessary to prevent them. Your loved one may need to wear bug spray when outside, or perhaps it's time to trade in those thorny rosebushes for something a little softer. 
Providing care for aging adults with dementia can be a difficult task. If your senior loved one has been diagnosed with a serious condition and needs help with tasks like meal prep, transportation, bathing, and grooming, reach out to Home Care Assistance, a leading provider of in-home care Huntsville, AL, families can trust. We also offer comprehensive care for seniors with dementia, Alzheimer's, and Parkinson's. Rely on the professionals at Home Care Assistance to provide high-quality compassionate care for your loved one. Give us a call today at (256) 716-9940 to learn about our flexible in-home care plans.