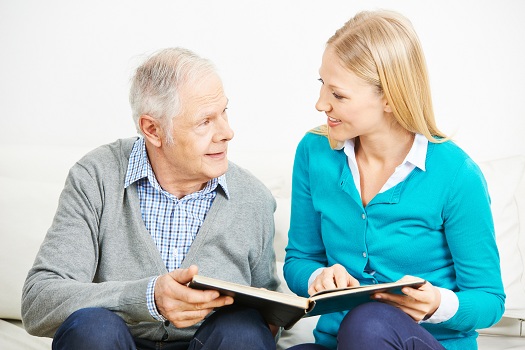 In the middle to late stages of Alzheimer's, seniors may exhibit combative behavior. The neuron damage that occurs in various locations in the brain leads to confusion, memory loss, and an inability to process incoming stimuli. As a result, seniors may become overwhelmed and act out due to frustration. The behaviors might include verbal assaults or grabbing, hitting, kicking, pushing, or spitting. Remembering the displays are caused by the disease process can help you remain calm and implement various techniques to manage your senior loved one's behavior.
1. Determine a Cause
In many instances of aggressive behavior, there's an underlying cause. Your loved one may be fearful or confused if there's too much noise or too many people in the immediate vicinity. Your loved one might be experiencing physical discomfort or pain. He or she may need pain medication for arthritis, have a headache, or need to use the bathroom. If the behavior begins close to mealtime, offer a snack. Later in the afternoon, shadows may appear indoors due to the sun being lower in the sky. The effect may cause sensory delusions and hallucinations that lead to behavioral disturbances. Turn on the lights during this time of day to reduce the possibility of visual misinterpretations.
2. Learn Proper Communication
Make sure your loved one sees you before attempting to communicate. Never approach from behind. Otherwise, a voice out of the blue might invoke fear, surprise, and confusion. Make eye contact with your loved one to demonstrate you're the individual speaking.
Caring for a senior loved one can be challenging for families who don't have expertise or professional training in home care, but this challenge doesn't have to be faced alone. Family caregivers can turn to Huntsville Home Care Assistance for the help they need. We provide high-quality live-in and respite care as well as comprehensive Alzheimer's, dementia, stroke, and Parkinson's care.
3. Take a Calm Approach
A gentle physical touch is often soothing and comforting. Regardless of the behavior being displayed, remain calm, and speak in a slow and soft voice. A pat on the arm or shoulder may relieve tension. Similarly, an arm around the shoulders or a slight hug offers comfort and security.
4. Use Validation
Don't minimize your loved one's feelings or thoughts, whether there's an actual cause for the behavior or he or she is acting out secondary to experiencing a delusion or hallucination. Your loved one may feel validated when you're willing to listen and make the effort to show compassion and understanding of the problem at hand. Your loved one must also feel free to express his or her concerns.
The cognitive challenges that accompany Alzheimer's often leave aging adults unable to manage everyday tasks, which puts their safety and health at risk. If your senior loved one has been diagnosed with a serious condition and needs help with tasks like meal prep, transportation, bathing, and grooming, reach out to Home Care Assistance, a leading provider of homecare families can trust. We also offer comprehensive care for seniors with dementia, Alzheimer's, and Parkinson's.
5. Try Diversion
If you cannot discern the possible reason for the behavior, redirecting your loved one's thought processes may be helpful. Perhaps suggest listening to your loved one's favorite music together. Maybe he or she might like watching a favorite TV program or movie. A walk outdoors under the warmth of the sun has also been known to elevate mood.
Symptoms such as agitation, confusion, anger, and frustration are common in elderly people with Alzheimer's. The days, weeks, and months following an Alzheimer's diagnosis can be challenging for both seniors and their families. However, these challenges can be made less stressful with the help of caregivers trained in professional Alzheimer's care. Huntsville Home Care Assistance is here to help your loved one enjoy the golden years while simultaneously managing the symptoms of Alzheimer's. To learn about our high-quality in-home care services, give us a call at (256) 716-9940 today.